Four focus areas that support the goal of bilingualism and biliteracy in dual language education: The Language First Standards – program fidelity
Take the most direct route
By: Stacey VandenBosch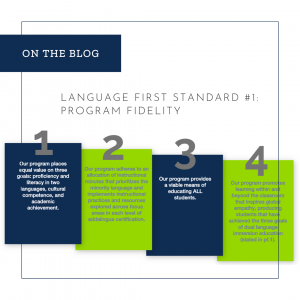 Think about Program Fidelity as the most direct route to a desired destination or end goal. Taking a detour or deviating from the core principles of a program can get us into trouble. Let me explain.
Last year, I decided to leave the cold winter in Michigan and spend some time in sunny South Carolina. With my car packed and pets loaded, I was ready to go. So, I entered the address of my rental cottage into my navigation system and chose the route that promised to be the fastest and most direct. According to Google maps, I would arrive at my destination in 13 hours and 26 minutes, if I stayed the course.
About the time we hit the Saluda mountains, however, Google maps suggested a detour off the interstate due to an accident that had backed up traffic for miles. Not wanting to sit in parking lot traffic, I chose to follow the detour. About two minutes in, I knew I had made a mistake. The detour sent me onto an old winding two-lane road that hugged the side of a huge mountain on one side and a sheer cliff on the other. In front of me was a semi truck and behind me a few other cars that must also have been rerouted. Not wanting to plunge down the side of a mountain I put all my energy into staying in my lane as I navigated the steep grade and hairpin curves. My goal was to get off that treacherous road as quickly as possible. But, unfortunately, that didn't happen. The semi-truck I had been following began flashing its lights and slowly came to a stop. With no room to pass, the line of cars and I stopped too. And there we sat, and sat. What had first appeared to be a faster, easier route was NOT. I eventually got down the mountain, but the detour added several hours to my trip. Had I stuck with my original route, I would have arrived at my destination much sooner.
So how does this story relate to program fidelity in dual language immersion education? If our final destination for students is high levels of bilingualism and biliteracy, academic achievement, and cultural competence, then we have to follow the most direct route to get them there. The Language First Program Fidelity Standards provide just that. Because they are grounded in research on student outcomes you can trust them. Taking detours like adding more instructional time in English or exiting certain types of learners out of dual language immersion programs might seem like shortcuts that will solve issues, but they won't.
To learn more, you can download a copy of the Program Fidelity Standards here, watch our Language First webinar here, or schedule a call here to learn more about how we can help you take the most direct route to high levels of bilingualism and biliteracy, cultural competence, and academic achievement.